21 March 2013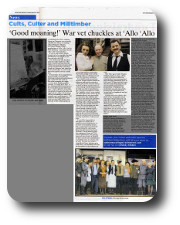 Kathleen Robertson, reporter at the Deeside Piper, wrote a great article about last week's production of 'Allo 'Allo today, saying that there were "no superlatives good enough to describe the stunning professional performance". 
And Culter Theatre Club had at least one other happy audience member as well, when World War Two veteran, Jim Blair travelled all the way up from Glasgow for his 90th birthday and chose to see our production of 'Allo 'Allo.  Jim who has been much involved in amateur theatre in Glasgow voted the Culter production as "well worth the travel from the central belt". 

See the
Deeside Piper Allo Allo Review
article.