'Allo 'Allo - Auditions 2017
27 April 2017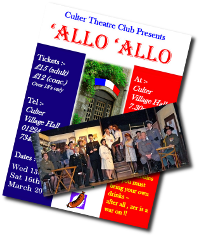 By popular demand, we are looking at doing another run of Allo Allo again this year, the first week of September. We will be holding OPEN AUDITIONS on the 3rd and 4th May at 7.30pm at Culter Village Hall.

We're looking for new cast members to play any of the following parts:

Lieutenant Gruber
Michelle of the resistance
Helga
Major Klinkerhoffen

Various french peasants
2 Airmen

If anyone is interested in any of these roles, or knows anyone that would be, please come along to one of the audition evenings!

Stage experience is not required - just enthusiasm! If you have always thought about being on stage now is your chance.
Audition pieces to read will be available on the audition evenings.