28 October 2018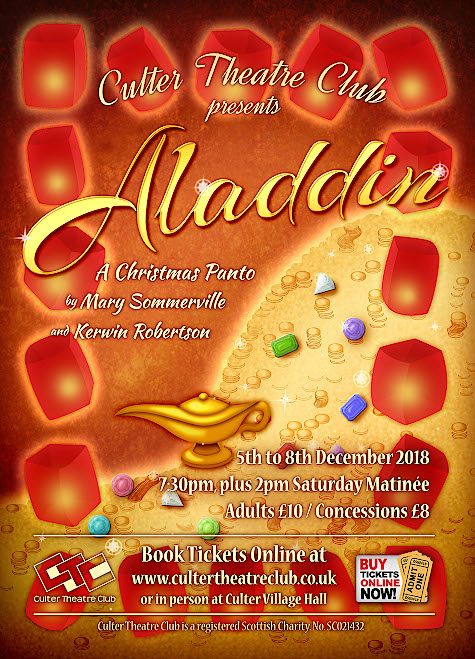 It's that time of year again, and tickets are now on sale for the annual Culter Panto! This year we're putting on Aladdin at Culter Village hall from 5th to 8th December. Don't delay as tickets sell fast!

"When the princess Yasmin ventures out of the palace on her own, she meets Aladdin the street urchin, and love is in the air, but what will his mum, Widow Twankey, and his brother, Wishy-Washy think? And more importantly what will the Emperor's reaction be!?

Meanwhile the evil wizard Abanazer is on a quest to find a magic lamp that will grant his every desire, and he needs Aladdin to help him - but he definitely isn't about to share the prize!"
With loads of laughs, and a script specially written by our very own Culter Theatre Club members, this show promises to be a hilarious magic carpet ride of fun for all ages!
Ticket Bookings
Tickets are available online with payment by debit or credit card. Alternatively, you may purchase tickets in person from Culter Village Hall. Please note that once booked, tickets cannot be refunded.
Organisation Group Bookings
If you're booking for a large organisation group, and would like to pay by cheque or bank transfer, please email us at tickets@cultertheatreclub.co.uk with your requirements and we'll be happy to help you out.
Business Sponsors
We're always very grateful to our local business sponsors who either advertise in our programme or donate raffle prizes. If your business is interested, please download our business sponsor letter for more information or just get in touch.