2 May 2014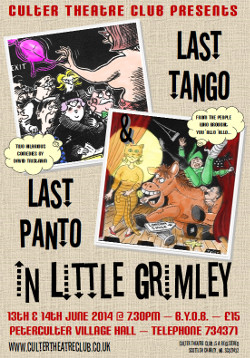 Little Grimley Amateur Dramatic Society is in trouble. The membership has dwindled to four and the audience isn't much bigger. If they don't come up with some rent money soon, they're going to be thrown out of the village hall...
Gordon, the chairman argues that there is only one thing that sells tickets these days SEX. Thus begins the chaotic and hilarious build-up to an evening of extraordinary home grown drama... an evening the locals would never forget!!!
From the people who brought you 'Allo 'Allo, we're once again treading the boards this summer with two hilarious one-act plays from "Little Grimley".  Although the characters remain the same the cast changes at the interval for the second play. 
This promises to be a great night out (adults only, 18+ please) - There'll be nibbles provided, and table seating, so bring your own bottle, sit back and relax and enjoy this great evening of comedy we've got lined up for you.
The show is on for two nights only, 13th and 14th June, so be quick and get your tickets ASAP.  Tickets are £15 and are available from Culter Village Hall on 01224 734371
Categories: Little Grimley | Mid-year Show