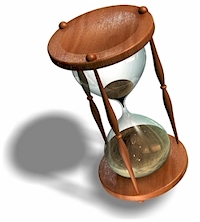 Well that's us just two weeks aways from opening night, and everything is gathering momentum for the big performance week.  Stage and sets are being constructed, costumes prepared and of course the cast are busy memorising those tricky bits of dialogue! (How many different ways can I say that line wrong!?)
It has to be said that there's a certain excitement rising throughout the whole club - as well as perhaps a mild sense of panic as the last polish is applied to those lines, songs and dances.  No one wants to be up there on stage with the "startled bunny" expression come opening night.  So we're all going at it to rehearse, rehearse, rehearse in order to put on the best show for all of our supporters out there.
On that note, it's worth mentioning that tickets have been selling like hot cakes as usual.  You'll see on the right hand side that availability is now getting very limited on most nights, and the Saturday matinée performance sold out a while back.  So if you haven't booked your tickets yet, don't delay - we'd hate for you to miss out because you didn't get your tickets in time!
0 responses to "The last rose withers… time is running out…"
Leave a Reply