The Final Countdown… One week to go!
28 November 2012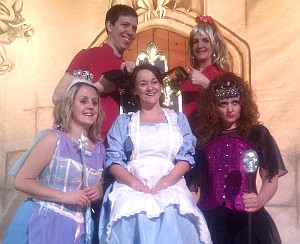 Well in just a week's time the show will open, so the final finishing touches are being put all over the place.  From glitter on the scenery to, well, glitter on the cast - as you can see from the photo!
Everyone is really excited now, with the last couple of straight rehearsals this week, followed by our "Technical Rehearsal" this weekend.  The technical rehearsal is where all our backstage crew have their main run through of the show with the cast.  This allows them to work out the final details of how to get scenery moved at the right times, lighting and sound checked, and any special effects sorted out.
Then next week, that will be followed by our full dress rehearsal, where everyone runs the show in its entirety: costumes, makeup, lights, band absolutely everything, so that the show has been run completely before our opening night on Wednesday.
Hopefully you've got your tickets already because, as you'll see, we've now sold out every night.  Once again thanks to all our many supporters out there - we're so looking forward to seeing you on the night, and we hope you are too!
Categories: Beauty & The Beast | Panto