'Allo 'Allo - Auditions 2022
5 March 2022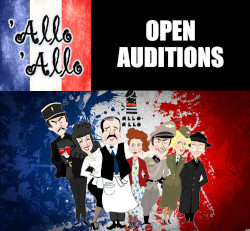 It's been a long time coming, but we are coming back by doing another run of Allo Allo again this year, with performances on the 24th/25th June and 1st/2nd July 2022.
We will be holding OPEN AUDITIONS on the 10th and 17th March at 7.30pm at Culter Village Hall.

We're looking for new cast members to play any of the following parts:
Edith
Lieutenant Gruber
Michelle of the resistance
Helga
Captain Bertorelli
General Von Schmelling
Crabtree
Other small roles (airman/peasant)
If anyone is interested in any of these roles, or knows anyone that would be, please come along to one of the audition evenings!
Stage experience is not required - just enthusiasm! If you have always thought about being on stage now is your chance.
Audition pieces to read will be available on the audition evenings.
Categories: Allo Allo | Auditions | Mid-year Show