We're off to see the Wizard!!
4 December 2013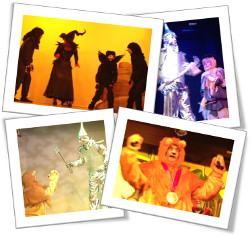 Well that's opening night over and we're all well and truly on the yellow brick road to Oz now folks!  Cast and crew were brimming with excitement over the opening!
If you were there tonight we hope you enjoyed yourselves as much as we did, and we're really looking forward to entertaining all the rest of you lucky ticket holders over the next few shows!
So get your best munchkin outfits on and come join us on the journey to Oz!
Categories: Panto | Wizard of Oz