It's not just about the actors…
7 November 2012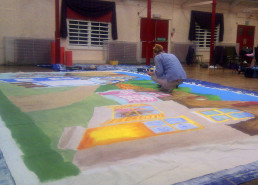 Every time we put on a show, the audience comes to see the performers on the stage.  But without the costumes, lights, sound and wonderful sets and scenery, I'm sure you'd agree that the shows wouldn't really be quite the same.
There's a whole raft of people who work tirelessly behind the scenes to make clothes and outfits, to design and paint amazing backdrops and props, to build intricate scenery mechanisms for special effects, and also to organise, cajole, instruct and guide on all the myriad of things that need to be done for the show to even get off the ground.  Not only are there all those creative types who make and build, but there's also the people who help organise the administration of everything, from buying rights to scripts and music, to organising and selling the tickets!
Culter Theatre club is always looking for new people to become part of the club - even if standing up on stage in front of a few hundred people several nights in a row isn't quite your thing, there are so many more opportunities for you to get involved.  So don't think you have to be the extrovert out there on stage, just get in touch with us if you want to get involved and help out in other ways too!
Categories: Panto | Mid-year Show | General