'Allo 'Allo: This is Nighthawk calling!
5 December 2012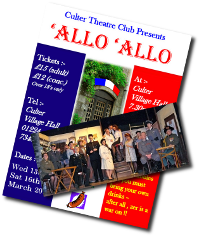 Well, whether you're coming to see Beauty & The Beast tonight or over the next few days, we hope you like what you see, and come away having enjoyed the show with a spring in your step and a smile on your face.
We'd also like to see you again - and the next opportunity for that will be in March, when we'll be running our show 'Allo 'Allo, for the second time.  Some of you may know that we ran this show in May earlier this year, and it was such a sell-out success, that by popular demand we're bringing it back in 2013 so that even more of you can get to see it (we were sold out a month in advance last time, and many people were disappointed that they couldn't get tickets).
'Allo 'Allo is of course based on that well loved BBC TV series of the 80's, and the content is aimed at the more mature audience.  Well, when we say "mature" that's solely in terms of age of course!  So if you like a good sausage gag, and the painting of the Fallen Madonna (with the big you-know-whats) takes pride of place over your mantelpiece, then this show - heaped full of double entendres - is the show for you!  All that coupled with the fact that the theatre is set out "café bistro" style, with snacks and nibbles provided, and we have a "bring your own bottle" policy, means that you're sure to have a fantastic night out!
Tickets will be on sale in the new year, so watch this space for more information, and once they go on sale don't delay as we're expecting them to sell like hot cakes once again! 
Want to make sure you don't miss out? Why not subscribe to our mailing list (enter your email address in the box in the column on the right), to be notified of our latest news, events and ticket sales.
Categories: Allo Allo | General | Mid-year Show